I found this rocking horse at an antique store a couple of years ago.  I had seen it there for a long time…maybe even a couple of years and it always caught my eye, but I never took the plunge and bought it.  One day, though, I decided I couldn't resist it anymore and I bought it with the intention to sell it at the Lucketts holiday open house.  As soon as I got it home, though, you can guess what happened.  I wanted to keep it.  So, I did.
I liked the quirky charm of it, but the red details always felt a little off to me.  I was willing to overlook that, because I loved the horse so much.
Now that I'm purging things that aren't just right, I decided it was time to let the horse go to a home where it is just right.  (I actually thought of repainting it, but that would really be a shame, so I thought it was better to sell it.)  I have a buyer with just that perfect spot who is coming on Friday.
I knew even when I bought it that it wasn't the right horse, but I loved the idea of it.  I've been fawning over antique toy and rocking horses like these for years…
They all have similar lines and are in neutral colors, so I decided I would keep an eye out for something like that.  I wasn't on the hunt or anything, but I spotted this rocking horse in Jennifer's beautiful living room…
Hmmm…I wonder where she got that?  I figured it was an antique, but I looked at the resource list anyway.  It's from Restoration Hardware and it's still available.  I put that thought on the back burner, though.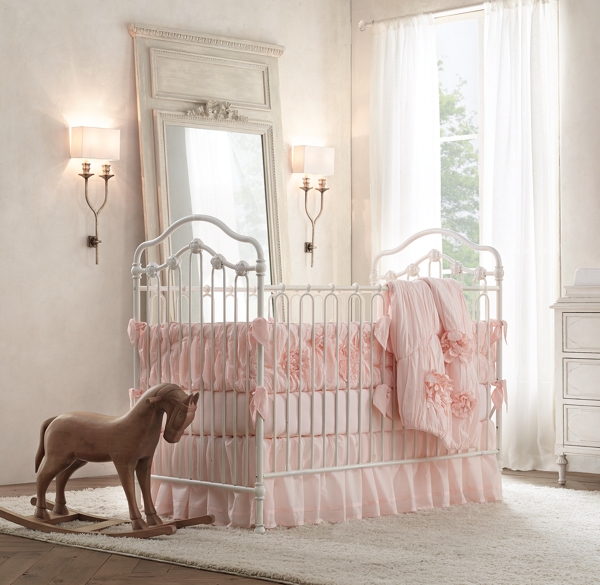 Then, I get an e-mail from Restoration Hardware announcing a three day 20% off sale.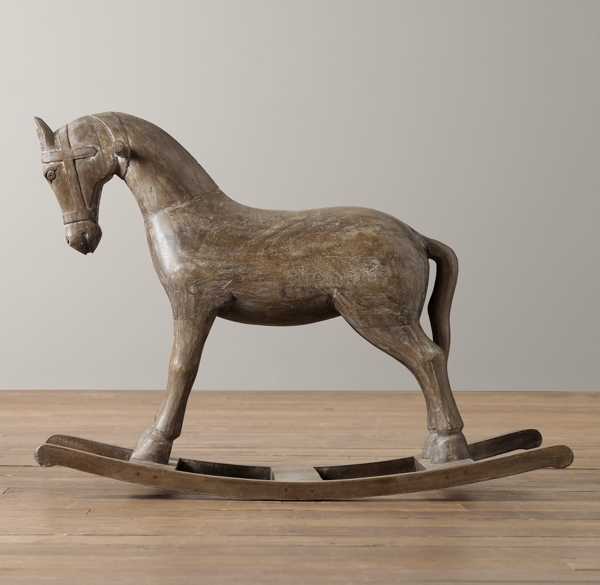 Yeah, I'm sure you can guess the rest.  I thought about it for the first two days of the sale and finally pulled the trigger on the third day.  (They did extend the sale through January 7, so you can still use discount code "savings" to get 20% off full price items.)  It worked out nicely, because I sold my ottoman and rocking horse and bought a different horse and still made a profit.
I think it's going to be perfect in my newly arranged living room.
And it may get painted white.  We'll see.
PS – This is not a sponsored post.