Before we're into May, I figured I should share my favorites from March!  As I was working on this post, it felt like March was a world away.  What happened in March?  What did I do?  Why is it so hard to remember??  I usually try to jot down my favorites as they happen, so writing a favorites post is easy, but I obviously failed to do that for the month of March in 2021.  These are the favorites I was able to scrape together…
antique shopping with my mom | visiting family
Well, this one was easy and obvious.  It was such a joy to be able to drive back east to visit Jeff's family in North Carolina and my parents in PA.  We hadn't been out there since 2018 and it's been way too long.  The main highlight was getting to see everyone, of course, but I also loved the day that my mom and I went to some of my old favorite antique shops.  I got to take home some fun things, but I just enjoyed being in those places again and spending the time with my mom.  We're good shopping buddies and always have a fun time together.
For those who have asked, you can find posts about my favorite places to shop around PA, Maryland, and VA HERE and HERE.
having a neat & organized studio
Man, I can't tell you how much I have enjoyed my newly neat and organized studio.  I picked through every drawer and shelf at the beginning of March and, even though the space doesn't look dramatically different, it feels different.  I know where everything is and I got rid of supplies I don't use.  I find that I'm drawn to my sunny studio even more and it's a delight to create in.
working glasses
A couple of sets of Working Glasses from Crate & Barrel was one of my first purchases when my no-spend February came to an end.  I had bought our glasses several years ago from Home Goods and, as glasses have gone missing or been broken over the years, I haven't been able to find new ones to replace them, so I decided to get rid of what I had left and start fresh.  These glasses have great reviews and they've been available for years, so the hope is I can add a new set if and when I need to.
I bought the 14 oz. and 21 oz. glasses, both with the lids and they have been the best glasses so far!  They are on the larger size, so that might be a drawback if you have small kids.  I love having the lids, though, so I can use them for storage, too.  I've used them for cut fruit, marinades, vegetables, the last glass of milk in a gallon, etc.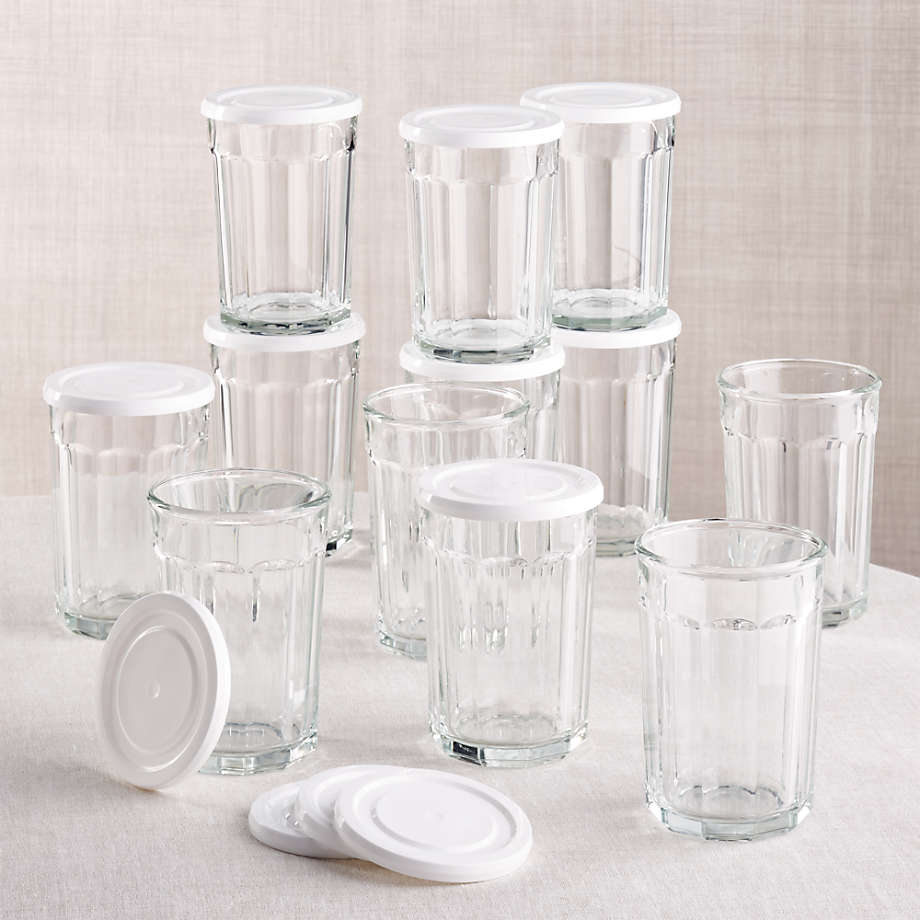 reading – how turner painted
I brought How Turner Painted with me to read on our trip and it is an excellent book!  So many art books on famous artists focus on the work, but this book really dives into the techniques, tools, pigments, and methods.
I found the sketches done on blue paper to be so interesting…
And I loved looking at the pictures and reading the descriptions of all of Turner's tools and supplies.  Isn't this portable watercolor wallet the coolest thing?
And I love that his ceramic watercolor palette still has his paint mixtures all over it.  After reading the book, I decided to watch the movie Mr. Turner.  I enjoyed watching his techniques and studio brought to life on the screen, but the movie disappointingly didn't have much of a plot, so I wouldn't really recommend it.
reading – patina homes
Patina Homes is another book I read on my trip and, as always, the Giannetti's put out beautiful work.  The homes featured in this generously sized decorating book are all clean and classic but show a representation of different styles and design aesthetics.
As with their other books, I love Steve Giannetti's sketches.  With all of the beautiful interiors, they may be my favorite part, and that's saying a lot!
Can you remember your favorites from March?