Well, we made it through no-spend February!  I received a few confession comments/emails from people who felt like they blew it, but the point isn't to be perfect.  The point is to become more aware of what you spend (and why) beyond tracking it in a budget.  I'm happy to report that I stuck with it pretty well and it wasn't as hard as I thought it would be.
So, first of all, did I buy anything in February beyond bills and necessary expenses?  Yes.  I ended up buying a few small things.
I bought a 2-ball yarn bundle, so I could finish my pair of socks.  I ran out of yarn halfway through and Jeff agreed it was a purchase to finish an existing project, so I could purchase it.  I only bought what I needed to finish.
I bought another set of 2.75 double-pointed needles because I bent a couple of needles while making the socks.  The stitch pattern through the heel ended up being so tight!  Working on bent needles was a bit of a pain, so I bought a new, nicer pair.
 I bought a small plastic case for my 9v batteries.  After the battery drawer organizing post and sharing the drawer on Instagram, I received all sorts of warnings about batterings catching fire when stored improperly!  Many people specifically pointed out that 9v batteries were the biggest culprit.  I was able to get all of the other batteries organized in a way that addressed the issue, but I found myself worrying about the 9v batteries when I was trying to sleep!  I would actually have to get out of bed to go check on the batteries.  So, I ordered an $11.00 plastic case made for 9v batteries for peace of mind!
I ordered the cookbook I made out of my great-grandma's recipes and had printed through Blurb.  There was a 40% off sale and I made it with the intention of buying it, so I went ahead and bought it.
I needed a few tubes of oil paint and watercolor for a class I'm teaching and, since I'm on a deadline, I didn't want to wait until March to order them.
(I just received the books yesterday and they are beautiful!  I will share about them and the design process tomorrow.)
And that was it!  Even though I did spend some during the no-spend month, I feel like I kept to the spirit of the challenge.
More importantly, here is what I learned during the no-spend…
I browse/shop online as a form of procrastination. 
When I felt stuck on a project or I wasn't quite sure what to work on next, I would feel the urge to search for some goodies on Etsy or eBay or to search for some new art books or more yarn.  I would go hunting for things to buy just to avoid doing something else.
I browse/shop online as a way to feel productive.
Buying things, specifically materials for projects, books to read, things to post about, etc. feels like I'm doing something productive even though it might be counterproductive if I'm buying something I don't need.
I buy things because I feel like I need new things to share/photograph/write about.
This is a cycle many, many bloggers/influencers fall into.  The truth is that new stuff makes for easy content.  Just take a picture of the new thing and write about it.  That's okay if I'm buying/sharing things I need/love/use.  But there is great content to create sharing what I already have.
I buy things because I enjoy getting packages.
Oh, happy mail…  Amazon was made for people like me who love having something arrive on their doorstep.  I even like it better than going to a store, because it feels like a surprise.  Oh!  This came today!  I found myself peeking out the sidelights to see if there were any packages even though I hadn't bought anything.  Instead of getting a lift from the new things, it made me turn to the things I already have and enjoy them more.
I buy things because I'm asked to. 
All of the e-mails about sales and online ads may have been the most tempting thing during the no-spend month.  I just took a screenshot and saved them in case I decided I needed/wanted them later.  We've hit March 1 and I can't remember what most of the products were!  I think this will be a good practice for me to do in general.  Just wait a few days and see if it's something I really want/need or if I'm just playing into the hands of good advertising.  I also removed myself from a lot of mailing lists.
Buying too many things is counterproductive to organizing. 
This is a no-brainer, but I really think it helped to work on organizing while I was having a no-spend month.  I was physically interacting with stuff and realizing that we couldn't possibly need much more!  Of course, there is always a natural coming-and-going that happens with stuff in a home.  Clothes that no longer fit, things you no longer use, things that break and need to be replaced, etc.  But there doesn't need to be a steady stream of new things coming into a house.  I should do my best to always focus on intentional, quality purchases.  That might be the hardest part, because it's so easy to buy something on impulse.
During the month, I kept a running list of things I needed or wanted to buy when the month was over.  Most things stayed on the list, but a few things were crossed off.  Yesterday, I ended up buying the things that stayed on my list…
Archival photo storage boxes (I bought Lineco Archival boxes in a few different sizes) and two photo albums, both for organizing and storing family photos.
Binder rings and blank white cards for organizing and storing knitting swatches.  I can actually see a lot of applications for the binder rings, so I'm pretty excited about those.
A few small plastic drawer organizers to use while I'm going through my studio drawers.  I have the receipt in case I don't use them all.
I bought two sets of drinking glasses (I bought these Working Glasses in large and small) to replace the ones we have.  Some of the glasses have chips in the rim or they are broken and I'd rather have a neat matching set.  Since I can't find more of the specific glasses we have, I decided to start fresh with a new set.  I do that every 8-10 years or so.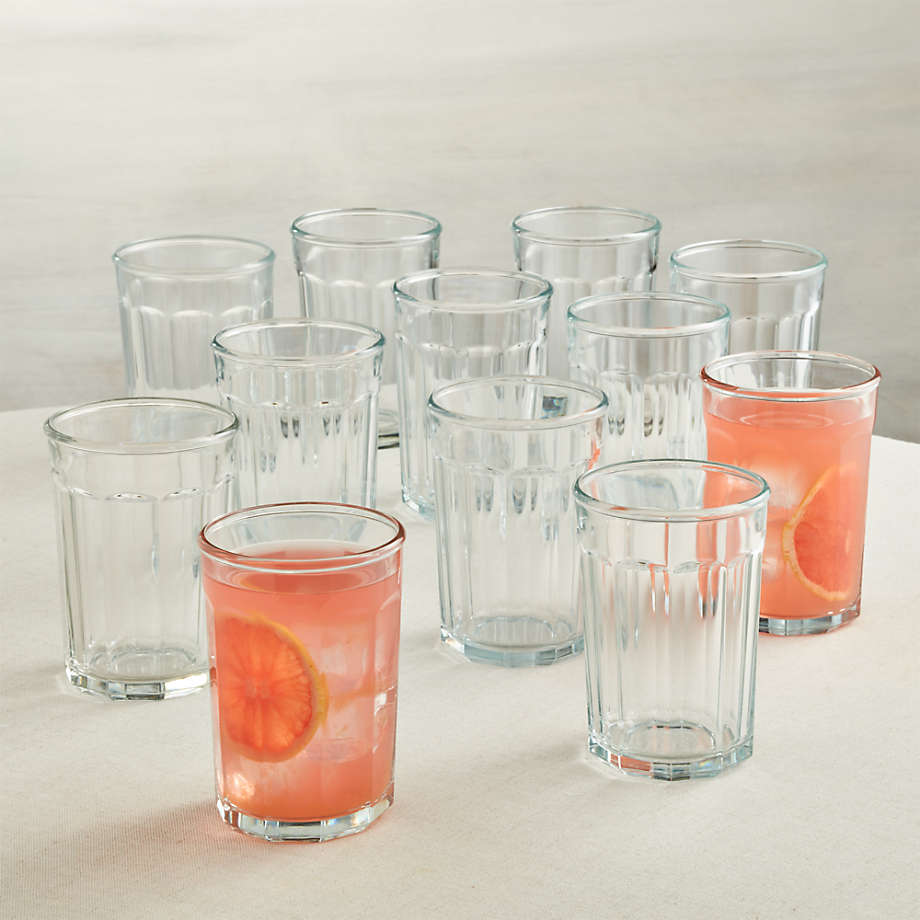 And that's it!  Even though the no-spend month is over, I am planning to continue on with the spirit of the no-spend month.  I'll give more thought to my purchases, set stricter limits on myself, and keep a potential to-buy list to see if I still need/want those items in a few weeks.  I think in the long run, this no-spend month will save me money well beyond February 2021!  That's the hope anyway.
We are visiting the east coast at the end of March, so I will definitely be spending some money at some of my old favorite antique stores!  I will temper my enthusiasm, though.
One of my readers asked what the theme would be for March now that no-spend/organizing February was over.  I hadn't really thought about having a monthly theme, but I have enjoyed having a focus and reading your comments about your own parallel journeys.  I still have more organizing to do, so I'm going to organize through March, but I like the idea of introducing some themes throughout the year.  I'll brainstorm out loud with you on some possibilities…
Annoying projects – Finish projects that have been hanging around unfinished.
Learn/try something new – This could be a daily thing or just try a few new things or one big thing in the month.  That could be fun.
Daily Creativity – Commit to a challenge to do a creative task daily.
Deep Cleaning – Work through the house to deep clean each room.
Any other ideas?  Any votes for one of the ideas I mentioned?