What a week!  If you read my blog regularly, you know I'm always up to something, but this week has been back-to-back DIY projects.  Grouting Monday & Tuesday, upholstery Wednesday and working on counter tops today.  I wish they were installed and done, but we made great progress.  We still need to finish cutting the hole for the under-mount sink and then I need to do the sanding and finishing.   On the to-do list for tomorrow?  Halloween costumes.  Seriously.  My editor convinced me to make some kid's costume tutorials.  I did let her know that my boys wear polyester super hero outfits from Wal-Mart, but she still had faith in me.  So, my intern, Kelly, and I will be having some fun with feathers, felt and tule and will hopefully end up with some cute costumes at the end of the day.  Wish us luck!
Anyway, here are the furniture favorites from last week…
I absolutely love the color of the dresser by Alison of The Modern Cottage Company.  The over sized glass knobs are just the icing on the cake.
If you like looking at pretty rooms that were put together on a real budget, you have to check out Jen's family room over at City Farmhouse.
Lastly, I am totally smitten with this faux cross stitch dresser by Jessica from Dear Emmeline.  It's simple, bold, elegant, modern timeless, homey and just plain lovely all at the same time.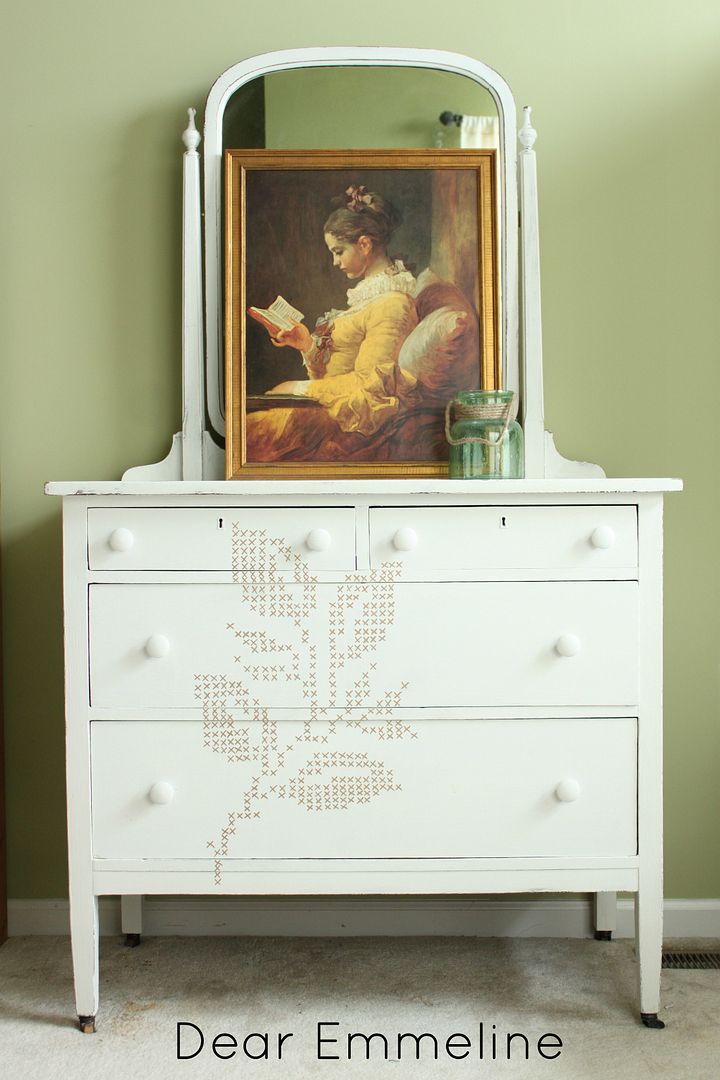 Here are the rules for our furniture get-together…
1.) Your post has to be about furniture. Please, please, please…just furniture. If you find your link has been deleted, it's not because I'm mean, it's because your post was not about furniture. You can share makeovers, awesome finds, favorite pieces, furniture arrangements, or even pieces on your wish list! Built-in furniture like kitchen cabinets and bathroom vanities qualify as furniture.
2.) Post a permalink (the link to the post), not the link to your blog.
3.) This party will close Friday at midnight PST and I will choose my favorite(s) and feature their piece(s) on next week's FFF.