Good evening all!  I was a little bit under the weather today, so I spent a lot of the day lounging in bed with the computer on my lap.  I don't have many days like that, but my husband all but insisted.  I did sneak out for a quick photoshoot and showered and put on some makeup for a Skype interview with
Jeanne Oliver
.  Of course, I had pajama pants on.  The nice thing about Skype is you only need to be presentable from the waist up!  So, I had some good time to look through your entries today and the blues stole my heart.  Here are my favorites…
 I think this smokey blue dresser by Reeves of The Weathered Door is so pretty.  Of course, you know I love wood tops and the paint job is so simple, but there's something interesting at the same time.  It has almost a glow about it.  It's lovely.
I think this is one of those pieces that is a love it or hate it kind of piece, but I love it!  The distressing and contrast of paint colors is so bold and striking.  I think this dresser by Embracing Change is really fun and would be perfect in a little boy's room.  Any new dent or ding will just add to the piece!
 I am just smitten with this piece.  Allison of Fab Rehab found this amazing antique dresser at a THRIFT STORE painted in this beautiful blue.  She just distressed it further to bring out the white coat of paint underneath and added glass knobs.  It is perfection.  A wonderful find and a wonderful makeover!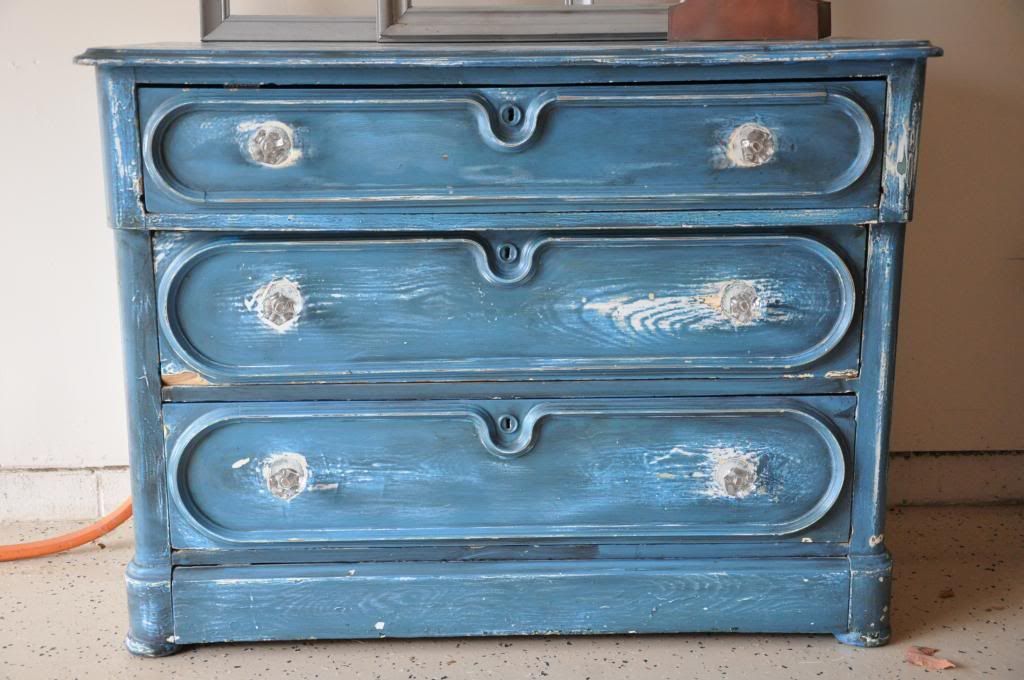 Here are the rules for our furniture get-together…
1.) Your post has to be about furniture. Please, please, please…just furniture. If you find your link has been deleted, it's not because I'm mean, it's because your post was not about furniture. You can share makeovers, awesome finds, favorite pieces, furniture arrangements, or even pieces on your wish list! Built-in furniture like kitchen cabinets and bathroom vanities qualify as furniture.
2.) Post a permalink (the link to the post), not the link to your blog.
3.) This party will close Friday at midnight PST and I will choose my favorite(s) and feature their piece(s) on next week's FFF. Enjoy the party!