What an overwhelming trip to Alabama I just had!  (In a good way.)
To set the stage a bit, I got a text a few months ago from Layla of The Lettered Cottage, asking if I'd be interested in coming to Alabama for a "little" antique market. Tempting…but it's a long way.  860 miles to be exact.  I sort of tucked the idea on the shelf of things that I would like to do, but probably won't out of practicality.  I knew the answer would be no, but I thought I would ask my husband, anyway.  So, I did.  And, after some discussion and weighing everything out, he said yes!  Really?!  I texted Layla right away to let her know we were in.
Fast forward to last Thursday…our van and trailer were packed with furniture, lavender, boxwood wreaths, scales, typewriters, ironstone and all kinds of goodness.  We left at 4:00 in the morning, because my husband is one of those weird people who can wake up really early without being grouchy, and drove it all in one shot.  I am not one of those people, so I rolled out of bed and slept until Roanoke, VA.  I was like an old lady with my pillow and lap blanket.
On the other end of our long drive, we had the absolute privilege of staying in the "Chapel Hill Loft", a cute apartment over a garage.
It was such a lovely and quaint place and just a quick one minute walk from the "Chapel" where the market was held.  Here are some pictures Kevin and Layla took of the place…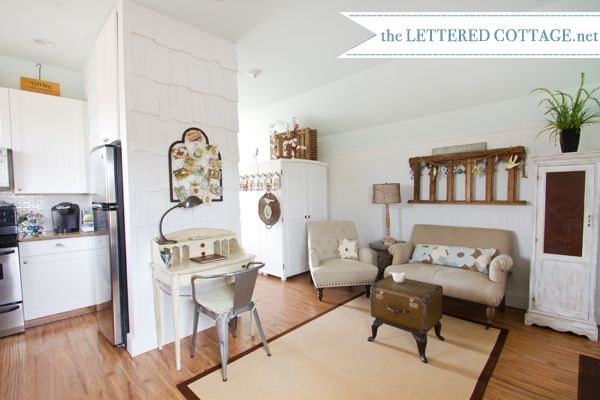 You can see the full photo shoot HERE.
We got a good night sleep and started unpacking the van and trailer and staging our space the next morning.  We weren't 30 minutes into the unpacking before I spotted this beauty coming out of Mary/Urban Farmgirl's van…
(Photo by Urban Farmgirl)
I had to have a "look me in the eye" moment with my husband to let him know there was no way that cabinet was going home with anyone but me.  I've been searching for the perfect piece for my foyer and this is it.  I can't wait to get it in place and fill it with ironstone.  Eeeeeeeeee!  I also bought a couple of other things and I'll show them to you later.
The event itself was awesome!  So many amazing people came out to shop, hug, chat, hang out.  I know this picture is blurry, but I love it anyway.  This is me hugging Linda of Coastal Charm.  We've been peer bloggers since I was first itty-bitty, so it was great to give her a huge hug.  (Thanks for sharing this picture with me, Linda!)
Some readers even came just to help!  Cara from Little Golden Fox came all the way from Indiana to help me set up my space on Friday and check people out the day of the sale.
We've "known" each other through the blog world for a long time and she recently became a MMSMP retailer!  It was so great to get to know her in real life and she was a big blessing to me.  We would have been up the creek without her, that's for sure!  Sue from The Blue Building, one of my other readers jumped in to help write up tickets as well.  It was a HUGE help and they both did it without asking for anything in return.
We were bombarded the first few hours of the sale.  I sold out of books, lavender, boxwood, ironstone and scales!  By the end of the day, I sold every stick of furniture and just had a small pile of things to take home.
There was one kink in the day.  On Friday, I stepped out of the van to take this picture…
…and I stepped right in a hill of fire ants.  Now, I haven't lived south of the Mason Dixon line for seven years, so I didn't even think to watch for that sort of thing.  I felt the stings, saw the ants on my legs and immediately sat on the ground, removed my shoes and wiped off the rest of the ants.  Fortunately, I was only bitten twice, once on each ankle.  Unfortunately, I have an allergy to fire ants.  It's not so severe that it affects my breathing or anything like that, but I really swell up.  I was fearing this as I shooed the ants (I ended up on crutches for a couple of days in high school when I was bitten three times on one leg), but there was only a little swelling.  Okay, whew! Maybe this variety of fire ant isn't as potent.  (My husband later pointed out that I stepped on their home and he would bite me, too, if I stepped on his house.  Fair point.)
So, the next day as I'm signing books, making sales and meeting people, my ankles start to really hurt.  I finally sat down after a few hours and pulled my pant leg up.  My ankle, part of my foot, shin and calf were huge and bright red!
(I know everyone wants to pin this picture.  You know you do. "Gross ant bite & love the chucks.")
I had to laugh a little, because I had "cankles" (calf-ankles) and that word always makes me laugh.  (I'm even laughing as I write this.)  My husband again looked at the bright side of things and pointed out that at least they weren't "thankles" (thigh-ankles.)  Another fair point.
So, I was a drama queen and people brought me creams and Benedryl and a frozen rice pack and essential oils and I sat with my feet propped up.  It all felt so silly over a couple of ant bites, but all of the southerners knew those are no joke.  While I'm on the topic of southerners, I would be totally rude if I didn't mention how delightful and hospitable the neighborhood was to us.  They helped with set up, brought us food, brought me socks filled with frozen rice and even shopped from us…and all of this when an Auburn football game was on.
At the end of the day, we packed up the few things that were left, gave a round of hugs and hit the road.  We were up a little later than we hoped thanks to the Clemson/Florida game (all of the hotels were booked), but we did get some rest in North Carolina and finished the drive today.
When I got that text from Layla a few months ago, I really didn't know what to expect.  Now that I'm on the other side of the event, I can say it was a blast and worth while and, ant bites and all, I'm really glad I went.
(Photo courtesy of Rhoda of Southern Hospitality)
Related posts: