I've had my eye on a certain style of chair for a while.  Oval backed, caned French chairs.  If they're affordable, they're rickety or the cane is punched through.  If they're perfect, they're too expensive.  So, I decided to save up and sell my dining set in order to be able to buy four of these chairs from Restoration Hardware…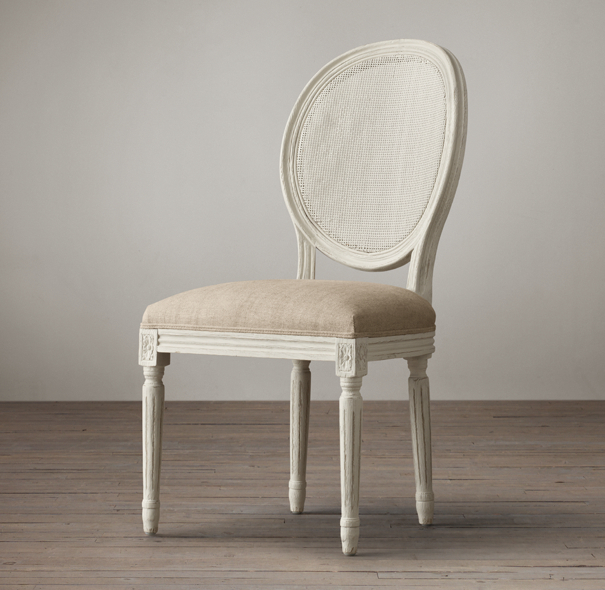 I loved the bed I bought there, so I felt like it was worth the splurge.  I've been watching those chairs for weeks, hoping they would go on deep discount.  Well, it hasn't happened yet.  I was ready to pull the trigger one day despite that, but I just couldn't do it.  So, I did what any thrifty girl would do…I hit Craigslist.  I've been looking on Craigslist for months…maybe even years and never found the right ones.  Well, that day was my day!  I found four oval back, caned back, vintage French chairs  that were sturdy, had intact caning and at a price I could stomach.  $300 for four with delivery!  And I actually like these chairs better than the RH ones.  I wasn't sure I liked their style of caning.
The seats are actually caned as well, but an upholstered seat was added.
Here's the problem, they are painted maroon.  And I'm not about to take on stripping the paint off of four caned chairs.  I'm not quite that crazy.  So, I called around to get some quotes on having them professionally stripped and it's a lot less than I expected.  I'm going to give up the DIY joy of stripping the paint from all of those nooks and crannies and let the pros handle this one.
My plan is to see what the wood looks like when it's stripped and either leave it as is or give it a whitewash.  I'm also going to recover the white leather seats in grain sack.  I'm not sure what I'm going to do with the end chairs, yet.  I have a few options, so I'll make that decision once the four side chairs are done.
The saga of my ever-changing dining room continues…
Related posts: