You know me.  Almost all of the furniture and accessories I buy for my home, I buy used.  (The only exception I make is for a sofa and mattresses.) It's almost always cheaper and the quality is almost always better.  I also just like buying used.  The pieces have more "soul" and character.  If I have money burning a hole in my pocket, I go to the antique mall.  I don't think I've set foot to shop in a real mall for over a year.  Any time I do go to a real mall (usually for a youth trip), I make a point to wander into Restoration Hardware.  A lot of their furniture and accessories are a bit masculine for my taste, but I love the classic quality of their designs.  In my mind, they are tops when it comes to beautiful neutrals.  I never bought anything from them, but I always walked out with a armful of catalogs for inspiration.
For years, I have had my eye on this bed…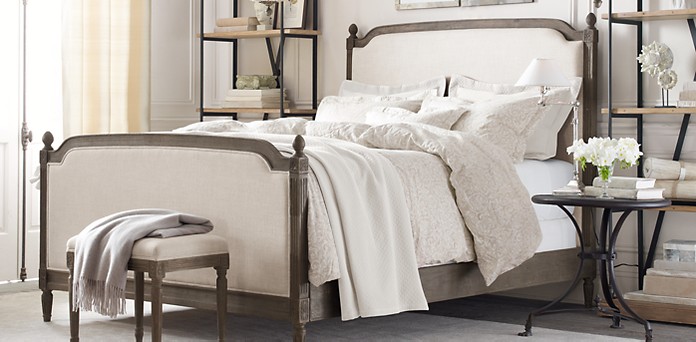 …at over $1600, it was always too pricey and buying a bed was never a high priority.  So, I have spent at least 3-4 years scouring Craig's List, antique stores, flea markets, fairs, thrift stores and E-bay to try to find a cheap, vintage-looking, French, queen-sized bed.  No luck.  I'd find a beautiful French bed with a curved foot board for $100, but it was a full-sized frame.  I'd find a queen bed for $100, but it wasn't French.  I'd find a French-style queen headboard, but it didn't have the frame or foot board.  I'd find a vintage, French, queen-sized bed, but it was the wrong style or was way out of my budget.  You get the idea.
I finally came to the conclusion that if I wanted what I wanted, I was going to have to be patient and wait for it.  So, that's what I did.
The time has now come to replace our slouchy 10 year old mattress with a comfy higher quality mattress…and with it, I'm getting my bed.  The bed that always caught my eye.  Eeeeeeeee!  It is now on final clearance with an additional 10% off the clearance price.  It was still a splurge for me, but I'm selling other things to offset the cost.  The mattress and box spring were delivered yesterday and are hanging out on the floor until the bed frame arrives in a few weeks.
I will say, though, I don't think I'll be doing a lot of shopping for new furniture.  There's no hunting, hauling, refinishing and repainting involved.  Where's the fun in that?!  One reason I love this bed, though, is that it's solid wood, so I can paint it, and I can reupholster it anytime I want a change.  That's my kind of new piece of furniture!  We'll see how long it stays as Restoration Hardware intended…
Does anyone want to make a wager?
See you tonight for Furniture Feature Friday.  Get ready to share your favorite furniture finds and makeovers of 2012.  It goes live a 10:00 pm EST.
PS – This is not a paid or sponsored post.
Related posts: