As I shared in my post yesterday, I've been feeling drained lately.  I usually feel that way after any big creative endeavor.  I'm always toast after the Lucketts Antique Market, the Christmas Open House left me in a creative coma for a couple of days and I'm usually useless after I finish a large round of freelance projects.  I was in serious need of a creative jolt today, so I decided to get out of the house.  I dropped the boys off at school set out for some retail stores.  I almost always shop second hand, but it's nice to get into a home store to see the colors, patterns, displays and trends.
I dressed my very best for the occasion.
Seriously.  That's what I wore.  With a sweat shirt and bandanna on my hair to round out the ensemble.  I did wear mascara.
Anyway, I was looking for inspiration.  I never look for things I can copy exactly.  I look for colors, patterns and ideas I can translate in my own way.  For example, I love this pleated pattern and it's totally doable.  What a great way to jazz up an inexpensive piece of cotton fabric.
I loved the patten on this vase and think it would be cool to replicate with paint or fabric.
I also look for table setting and seasonal ideas…
…and fun props I can use in my photo shoots.  I snapped up one of these white milk bottles from Target…
…and this ceramic egg crate.
(As I was walking around Target and Pier One, snapping pictures, I was certain I was going to get "busted" for it.  I expected a bouncer sort of guy to come up behind me and say, "Umm, excuse ma'am, but you're not allowed to take pictures in here."  Don't ask me why, but I felt like I had to be sneaky about it.  Not everyone understands bloggers, you know.)
I also bought some magazines.  I am a decorating-book-shelter-magazine-aholic.  I love blogs and Pinterest and all of those great online resources, but there's something special about seeing an idea on a glossy page.  I spent $40 on magazines, so I'm hoping for a lot of inspiration!!
I saw several ideas while I was out and as I drove home I recited them in my head, so I wouldn't forget.  I don't know why I didn't write them down…  One idea is brilliant for an HGTV table setting I need to work on and the other is going to be an experiment for a piece of furniture.  I'm really excited about both.
So, now I feel ready to create and it just took a morning out, $40 on magazines and a yummy lunch at Panera Bread.  Actually, the lunch had little to do with the creative recharge, but it was a nice way to end my morning out.
Do you need a creative recharge?  Since everyone get inspired in different ways, I asked some of my fellow DIY Bloggers to share the way they get the creative juices flowing.  Here's what they had to say…
Beth says, "This sounds silly and obvious, but I find sleep to be incredibly rejuvenating to my creative well-being! Sometimes when I am stuck on a project, I will stop what I'm doing and go and take a nap. So many creative ideas come to me when I create the time and space to be quiet, meditative, alone, and well-rested :)."
Wendy says, "I take a walk…I do a lot of thinking when I walk, and I find that there is something very free-ing about feeling the air, seeing nature and letting it all soak in! I always come home re-energized and ready to tackle the problem!"
Marianne of Songbird says, "I'll start a new small project, gather some materials that I have forever laying around and set myself a deadline: 'come up with something within the hour'. It frees me from over analyzing, over thinking, self doubt and endless procrastination. Those projects are usually not my best but they do light a fire in me and the project after usually turns out pretty cool. Make sense?"
Stacy says, "When all else fails, I step away for awhile and eat some chocolate. I do something else completely like take a walk, read, play with my kids, or clean. Usually an idea will just pop into my head when I an not focused on the project. And if not, I can go back to the project with fresh eyes."
(Ah-ha! I just need to eat more Raisinets. I knew it!!)
Roeshel says, "I keep a notebook handy at all times. Sometimes I have the craziest ideas out of the blue and at inconvenient times and if I don't write them down immediately, they're lost. Then when I'm planning a project or looking for my next creative outlet, I'm able to elaborate on the ideas and notes I've written down."
Donna says, "Viewing link party linkups and pinterest gives me a caffeine type high. I can't wait to get off the computer chair and saw up some boards!"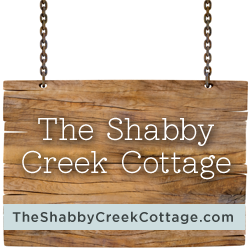 Gina says, "I go out to lunch with friends. It's weird, but getting my head out of DIY land helps me see things in a different perspective. Oh, and the laughs help, too!"
Chris says, "I go to Lowes/Home Depot! It's like a buffet of ideas just sitting in front of you. Figuring out what those projects are is half the fun!"
Lindsay says, "When I'm particularly stumped, I head to my favorite antique and vintage shops. The color combinations and modern lines of mid-century furnishings completely inspires me. And if all else fails, maybe I'll find something old to refresh with a coat of paint."
Melissa says, "I turn off the computer! The computer stifles my creativity."
Shelley says, "At one point or another, we all feel our creative flame start to dwindle. One of my favorite ways to reignite my creative fire, is to just simply… walk away.  I stop thinking creativily and throw myself into something completely different…."

Sarah says, "These ladies took all my answers!!
My biggie is turning off the computer — no reading comments, no looking at blogs or pinterest, nothing. It gets way too overwhelming sometimes. Then I can just focus on OUR lives and home and I get inspired again."
Myra says, "When I'm out of ideas and creatively drained, I just shut the computer down and live life for a day or two. And a trip to the thrift store doesn't hurt either."
Emily says, "I say the same as the others. Stay away from the computer! And definitely stay off Pinterest."
Rhoda says, "Me too, step away from the computer, get outside for a walk, take a day with girlfriends to recharge at a thriftstore or antiques market, having lunch out. I'm more than energized to get started on something else. Sometimes looking at all the beautiful pics on the internet can be draining, when we are not involved in a project ourselves, so I have to keep myself motivated with real life ideas."
Kate also wrote a great post on this subject last year.  You can check out how she revives her creativity HERE.
It was so interesting to me that several of them have to walk away from it all to recharge.  I tend to be most inspired when I immerse myself in magazines, stores, Pinterest, Etsy, blogs, displays and books.  It gets my wheels turning.  Another thing that helps is when I clean my house.  For some reason, I start cleaning and I get all sorts of clever ideas.
Just to make sure I really get creative, I'm going to eat an extra handful of Raisinets.
How do you recharge?
Oh!  And the winners of the Wuslu giveaway are…
Lynn (lynnbedalov) gets the set of six nests
and
Katie of Salt Marsh Path is the winner of the cloche and tag
Congrats, ladies!
Related posts: