It's finally done! This is the tray I offered as the giveaway prize for my very first Furniture Feature Friday. The winner was Lou Lynn from the Life of Lou Lou and her fabulous chair makeover.
This is what the tray looked like before. It was a thrift store find and actually was in really nice condition. It could have been left "as is" and I gave Lou Lynn that option. She chose to have me custom paint it for her in a soft blue/gray with white hand painted detail.
I chose to distress the edges to give it more character and a sense of age. It also will hide any dings that may occur in daily use.
I hand painted some detail around the outside of the handles in addition to the border around the surface of the tray.
The hand painted scroll work was inspired by the
footed tray
I recently received from Kim at
My Domestic Bliss
. I really never know where inspiration is going to come from!
Once the tray was distressed and hand painted, I added an antiquing glaze to
highlight
the beading around the edge of the tray and give it more dimension.
I really love how it turned out. Blue & white is my thing, so it's a little sad for me to say goodbye to it, but that's how it frequently is for me. I think this tray would be perfect on a coffee table, as a vanity tray, or to serve guests. This is such a useful and functional piece.
Lou Lynn, I hope you love and enjoy it for many years.
Make sure you come back for my Furniture Feature Friday link party! You can share any posts about furniture or home furnishings (including accessories and decor.)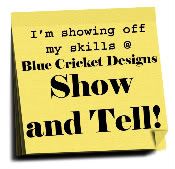 Related posts: