When I heard about the Vignette Party for Funky Junk Interior's Saturday Night Special, I could hardly resist participating. I was really looking forward to running around my house with a camera, playing with all of my things, but I have been bed-bound today. I was pleased to find so many vignette pictures in my album already, so I have plenty to share. Some of these pictures are staged to show off my hand painted pieces and some are from around my house. I have two toddlers at the moment, so I have learned to live with clean tabletops and I can't wait for the time when I can really start decorating below 3 feet again!
Here's my hand painted bread box with my SLAH pedestal (found at a thrift store) and stone fruit collection. The tea towel was a wedding present to my grandparents.
This pedestal was a dark brown, dated wood when I bought it. I painted it in a watery blue with white detail and staged it with ironstone plates, vintage linen luncheon napkins and Bakelite flatware.
This is the arrangement that was on top of my china cabinet turned office storage. The wooden piece is from an old sewing factory in Gettysburg, PA and was given to me (along with several others) for free. Mmm…that might be a good giveaway at some point. I bought the ironstone pitcher from my neighbor's yardsale for $2.50 and the basket was $1.00 at an auction.
My blog designer actually staged this picture. I love the balance and simplicity of it and it really shows off my hand painted table.
Some ironstone pitchers on one of my hand painted cabinets. The general rule is to group accessories in odd numbers, but 2 works just fine in this case.
I purchased both of these ironstone platters from yard sales for $1.00 for the small one and $3.00 for the large. They add some interest to my hand painted bench with an antique feed sack seat.
I love Bakelite and have to have mine proudly displayed. It's found a happy home on my kitchen counter in this antique coffee pot. It was only $5.00 due to the missing lid and small crack in the top. I just buy things I like, not things that are perfect.
This is a vignette that's on my kitchen counter. I purchased the large ceramic plate at a yardsale for $.50! It creates a nice backdrop in that awkward corner. I love using lamps in the kitchen. It makes it feel more like a room and less like a utilitarian space.
This desk belonged to my great-grandfather, so it's an inherited piece. It has been with me since high school and is still a favorite of mine. I purchased the stool for $3.00 from a yard sale and fixed it up. The white Kaiser vases are from my mom and the lacework was purchased at a thrift store for around $30.00.
Here's the concrete chicken I purchased from the Old Luckett's Fair for $15.00. I really wanted a larger one, but I just couldn't imagine coming home and telling my hubby that I just spent $40.00 on a concrete chicken. The mirror was $1.00 at an auction. I just painted it white and added an antique glaze. The topiary was $2.00 at a yard sale.
I love ironstone and urns. This arrangement combines the two.
Bakelite and ironstone. Love it.
Showing off my newly painted mirrored vanity tray.
I also put together a vignette on the tray that might be used in a bathroom or on a dresser.
I painted this shutter for a client, but I absolutely loved how it looked leaning behind this chair. I'm going to have to keep my eyes open for one while on the hunt.
I filled this glass apothocary with new wine corks that I stained to look old. It's a part of a pair that I purchased from a woman getting rid of a bunch of glass and crystal.
My lovely little birds from Goodwill along with a pumpkin and some antique books.
And lastly some of my collection of ironstone. Most of these pitchers and creamers were purchased for under $10.00 and the beautiful toureen was found in my grandparent's attic! Hope you enjoyed my vignettes! Make sure you check out the party over at
Donna's
.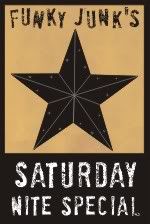 Related posts: