Today is a good day for my little blog. First of all, my
Desk Make Over
was chosen as a favorite at
Kimba's

DIY

Day
and my post on
Rub On Poly & Glazing Techniques
was featured at Funky Junk Interior's
Featuring You
Series. It is always so encouraging to know that my work, tips, and posts are appreciated! Thank you so much!
Here is my newest makeover. This was a very simple one and an example that starting with a great piece makes all the difference. I purchased this mirror a few weeks ago for $5.00 at a thrift store…or was it a yard sale…all of this junking becomes a blur after a while.

First of all, it needed a good cleaning. I then removed the mirror from the frame to apply a Spray Primer by Krylon followed by two coats of a White Satin spray. I really liked this piece as a mirror, but thought it would look cool as a chalk board as well. Why not have both? So, I painted the back of the mirror with 2 coats of chalkboard paint. I can simply flip it over to reveal the mirror side when I want to. I love versatility!
So, here's how it turned out. This frame is just to die for! I love the curves and scrolls.
You can spray any frame and insert a chalk board, but it's the shape of this frame that really makes it a special piece. Keep an eye out for a detailed frame and you can easily reproduce this look. I love it so much…I think it's going to find a home in my office instead of my shop.

Make sure you come back tomorrow for Furniture Feature Friday! Next week will be the first linky party, so get those projects ready. In my post tomorrow I will show what the giveaway will be in order to provide some incentive and I have a great feature in store for you. If you love furniture makeovers, become a follower, grab a button, and spread the word!
Also, there's a great party happening at Funky Junk Interiors on Saturday. I'll be there!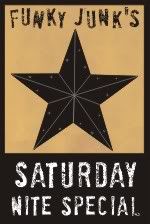 and
Related posts: